Beef Bourguignon Pie with Red Wine Gravy
Served with buttered mash and seasonal vegetables. £12.50
Thai Pork & Peanut Curry (C)(N)
Served with Rice & Prawn Crackers. £11.75
Cider, Saffron & Basil Battered Fish
Served with chips, mushy peas and our own tartare sauce. £12.50 (DF)
Parmesan & Pesto Crusted Chicken Breast
Served with Baby Roast Potatoes & Seasonal Vegetables. £12.75
Whole Baked Sea Bass (GF)
Served with Tomato, Spinach & Red Onion Sauce. £13.50 (DF)(GF)
Creamy Pea & Chive Risotto (V)
Served with Buttered Mixed Greens & Rustic Bread Roll. £10.50
Olive & Garlic Stuffed Chicken Breast (GF)
Served with Wild Mushroom Tagliatelle. £12.50
Liver & Onions in a Red Wine Gravy (GF)
Served with Caramelized Red Onion Mash & Mixed Greens. £12.50
Persian Lamb Tagine
Served with Rice, Mixed Greens & Crusty Bread. £12.50
Moroccan Vegetable Stew (V)
Served with Rice, Mixed Greens & Crusty Bread. £11.50
Water Buffalo Burger – Wild Boar & Bacon Burger – Vegetarian Green Vegetable Burger
Served in a rustic roll, with chips and caramelized red onion chutney. £11.75
Burger Extras: Somerset Cheddar/Smoked Bacon/Sautéed Mushrooms. 80p per option.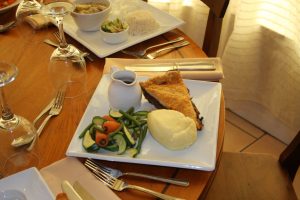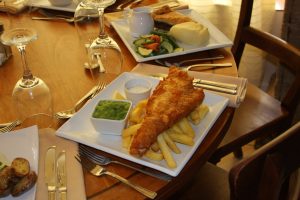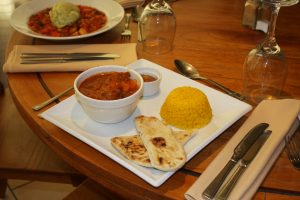 Photographs on this page may be from previous menus and may not currently be on the menu.
Please look at our Special Boards above the bar for more options.
C = Chilli   V = Vegan   N = Nuts   GF = Gluten Free   S = Seeds   DF = Dairy Free
If you have any food allergies or intolerances, then please speak to a member of staff before ordering.  Thank you.